Best 3D Plant Design Softwares for Multi-Disciplinary Engineering
In the modern context, the modeling and analysis of new-age engineering plants and offshore platform structures present a high capital investment. Their operational safety and efficiency rely heavily on accuracy and intelligent design. The design also needs to factor in local operating conditions that is wind, current, seismic loads, heat etc. For the engineering and construction world, plant design tools for piping systems' are crucial components of design and layout for any project.
Today, 2D drawings and hand calculations are replaced by advanced 3D plant design software that streamlines the design process and enhances accuracy and efficiency. And, having the right 3D software is important for integrated modeling, analysis, and simulation. The advanced software and 3D modeling applications help design engineers to create complex offshore structural systems, plant designs, piping layouts and more to stay compliant with industry codes and standards.
This blog explores the top five widely used 3D plant design software that have become indispensable tools for engineers and designers.
What are some of the best software for multiple engineering disciplines?
Popular 3D Plant Layout Software Tools
CADWorx® developed by HEXAGON CORPORATION (formerly Intergraph Corporation)
Smart® 3D – developed by HEXAGON CORPORATION (formerly Intergraph Corporation)
AutoCAD Plant-3D developed by Autodesk
PDMS – Plant Design and Management software developed by AVEVA PLANT
SolidWorks Piping developed by Dassault Systèmes
PDS®- Plant design software developed by HEXAGON CORPORATION (formerly Intergraph Corporation)
AutoPLANT developed by BENTLEY
Hexagon CADWorx®:
Developed by Hexagon PPM, it is a 3D plant design and modeling software widely used in the process and power industries. It's known for its ease of use and flexibility. It is widely used for plant and piping design solutions. It is known for its scalability, interoperability and flexibility. CADWorx® helps create accurate models for the more complex projects – be it process plant piping, buried pipe, intra-plant pipe, transmission lines, or other piping systems.
Here are some key features:
Bi-Directional AutoCAD Integration: It seamlessly integrates with AutoCAD, making it accessible to AutoCAD users and allowing easy data exchange.
Spec-Driven Design: The software uses parametric components and specifications to create intelligent 3D models that comply with industry standards.
Automatic Isometrics: It generates isometric drawings, bills of material, and other documentation automatically, reducing manual drafting efforts.
Robust Clash Detection: It offers advanced clash detection and interference checking tools to ensure design integrity and accuracy.
P & ID (Piping and Instrumentation Diagram) software integration facilitates data transfer between P&IDs and 3D models.
Hexagon Smart® 3D:
Hexagon Smart® 3D is a comprehensive 3D modeling and design software tailored for the process, power, and marine industries. It is an advanced, data-centric, and rule-driven software and has been designed especially for mission-critical requirements. It does a good job of breaking through challenges set by traditional technologies. Smart® 3D provides an iterative environment and is popular among Engineering, Procurement, and Construction EPCs and owners alike.
Hexagon Smart® 3D has a wide range of capabilities that are required to design plant, marine, and materials handling facilities. It also does a great job of maintaining the 3D as-built documentation. Data-centric technology, and a rules and relationship-based algorithm, integrated reuse approach, and customized automation capabilities are some of the reasons why Smart 3D has gained high acceptance in the industry. It is renowned for its advanced capabilities and intelligent modeling:
Rule-Driven Design: Smart® 3D employs rule-driven design techniques to ensure that designs adhere to industry standards and project-specific requirements.
Advanced Visualization: It offers advanced visualization and rendering capabilities, allowing stakeholders to explore the 3D model in detail.
Multi-Discipline Collaboration: Smart® 3D facilitates collaboration among engineering disciplines, promoting efficient project execution.
Detailed Reporting: The software generates detailed reports, including material take-offs and clash detection reports, streamlining project documentation.
AutoCAD Plant 3D:
Autodesk developed Plant 3D, a comprehensive and widely used 3D plant design software. It's known for its user-friendly interface and robust capabilities, making it a top choice for professionals in the field. AutoCAD Plant 3D brings modern 3D design to plant designers and engineers. It has features like spec-driven design and standard parts catalogs to streamline the assignment of piping, equipment, and support structures. Additionally, integrated AutoCAD P & ID functionality and quick generation of isometric and orthographic drawings increase productivity, accuracy, and coordination.
Here are some key features:
Intuitive 3D Modeling: AutoCAD Plant 3D allows users to create intelligent 3D models of piping systems, equipment, and structures. The software provides a vast library of parametric components for quick and accurate Design.
Integration with AutoCAD: It seamlessly integrates with AutoCAD, offering compatibility with a wide range of CAD files, which is especially useful for projects that require collaboration across different platforms.
Data Management: The software includes data management tools for tracking changes, revisions, and project documentation, ensuring that design and construction teams continuously work with the latest information.
Isometric and Orthographic Drawings: AutoCAD Plant 3D generates isometric and orthographic drawings automatically, saving time and reducing errors in the drafting process.
Interoperability: It supports industry-standard formats like ISO 15926 and enables easy data exchange with other software, enhancing collaboration.
AVEVA PDMS (Plant Design Management System):
PDMS is a powerful 3D modeling software for plant design and construction projects. t is easily customizable and supports multi-user and multi-discipline environment and is widely used for engineering, design and construction projects in offshore and onshore. It's widely used in oil and gas, petrochemical, and power generation industries. PDMS has modules for the design of equipment, piping, ducting, structure and cable trays. Visualization carried out using client-defined catalogues and specifications, in a full-colour shaded 3D environment, with the support of tools that ensure a clash-free design.
Here are some of its notable features:
Comprehensive Plant Design: It covers the entire plant design process, from conceptualization to detailed engineering, and supports equipment, piping, structural, and electrical systems.
Rule-Based Design incorporates intelligent rules and specifications, ensuring designs comply with industry standards and project requirements.
Multi-Discipline Collaboration: PDMS facilitates collaboration among engineering disciplines by providing a platform for all stakeholders to work together.
Clash Detection: The software identifies clashes and interferences in the 3D model, allowing engineers to resolve issues before construction begins.
Data Consistency: PDMS maintains data consistency throughout the project, reducing errors and ensuring that the model accurately reflects changes.
SolidWorks Piping:
Developed by Dassault Systèmes, it is a well-known name in 3D CAD software. It offers a powerful piping design module as part of its suite. SolidWorks Piping is favored by many engineering professionals for its versatility and integration capabilities:
Parametric Modeling: SolidWorks Piping provides parametric modeling capabilities, enabling users to create intelligent piping systems quickly.
Automatic Bill of Materials: It automatically generates bills of materials (BOMs), simplifying the procurement process.
Integration with SolidWorks Electrical: For projects that involve electrical systems, SolidWorks Piping seamlessly integrates with SolidWorks Electrical, ensuring accurate design coordination.
Robust Analysis: SolidWorks offers simulation and analysis tools, allowing engineers to evaluate the performance and behavior of piping systems under various conditions.
Hexagon PDS®:
PDS® is a broad-range and smart computer-aided design/engineering application. PDS has been around since 1980 and is considered one of the pioneers in 3D design software. PDS is production driven and provides value by reducing the total installed cost of project. It is used by many renowned EPCs and owner/operators for their industrial design.
Important features of PDS®:
3D modeling that helps engineers designer better
Dynamic walk through for operations and maintenance personnel
Interference checking
Accurate material take-offs
Specification driven design and phased reviews
BENTLEY AutoPLANT:
AutoPLANT by BENTLEY is a spec-driven, sophisticated 3D plant design and modeling application. It creates intelligent piping layout drawing, equipment, raceways, and isometrics in a single application. It is quite easy to use, customize, and administer.
AutoPLANT also provides interactive routing and placement in an intelligent 3D multi-discipline environment. Some benefits of AutoPLANT are a single streamlined application, high information mobility, scalability, and review and clash detection.
Rishabh Engineering's 3D Piping Design Capability
Our team has demonstrated exceptional skills in harnessing the above-listed 3D plant design and piping software to support the engineering and construction landscape. With a keen focus on innovation and efficiency, we seamlessly integrate 3D design software into its operations, setting new industry standards. And, through the adept utilization of 3D piping design software, our designers and engineers excel in creating highly accurate and intricate piping layouts. They allow us to develop comprehensive, detailed models while supporting customers with not only enhanced visualization but also enabling them with early detection and mitigation of potential clashes and errors. By virtually constructing piping systems, we ensure that projects proceed with unparalleled precision, reducing rework and costly delays.
Furthermore, Rishabh Engineering's proficiency with 3D design tools enhances collaboration across multidisciplinary teams. Engineers, designers, and stakeholders can seamlessly communicate and iterate on designs in real-time while fostering a collaborative environment that drives project success. And, ultimately this capability extends to the ability to generate accurate material take-offs and facilitate smoother procurement processes, eventually leading to cost savings and improved project timelines.
Final Words
In conclusion, these five widely used 3D piping design software packages have revolutionized how engineers and designers approach complex projects. They offer advanced features, seamless collaboration, and accuracy, making them indispensable tools for industries that rely on efficient piping design and construction processes. Selecting the right software tool for your engineering project is an important decision. This article will help you learn about the important criteria that can help you choose the appropriate software. Investing in the right 3D piping design software can significantly enhance your project outcomes, whether in the petrochemical, manufacturing, or power generation sector.
Some of these software also offer a trial package so you can verify the pros and cons for yourself. Ease of operation, interoperability, customization – these are some of the factors that will have a final bearing on your selection. However, you don't necessarily need to invest in licensed software. Fortunately, you have reliable vendors like Rishabh Engineering who have invested in major licensed software tools. Find out how you can collaborate with 3D modeling service providers like us to optimize construction, maintenance, and operability with sophisticated engineering designs.
Seek Help With Piping Design?
We can help you leverage the power of top 3D piping design software while enhancing accuracy, collaboration, and cost savings. Explore the best tools with Rishabh Engineering.
Plant Reverse Engineering Services
What is Reverse Engineering? An engineering process implemented for enhancing…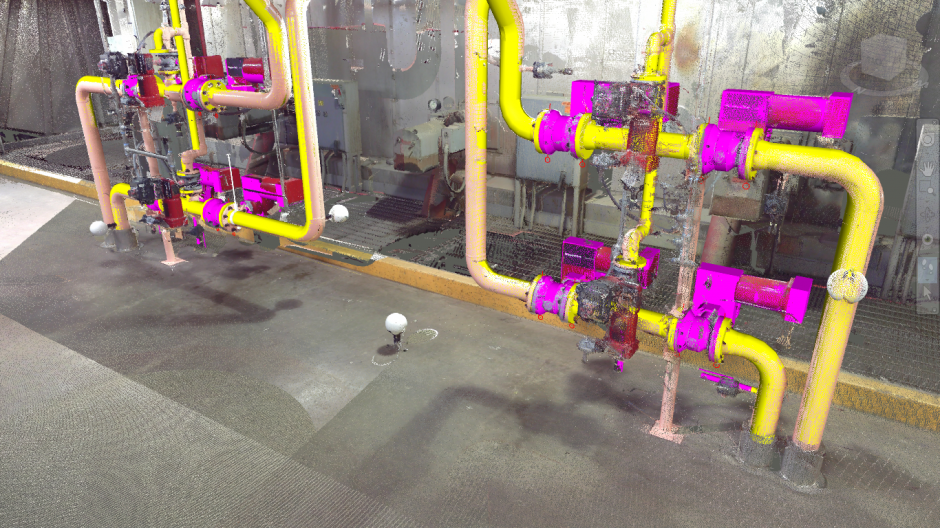 Advantages of 3D Laser Scanning For Brownfield Projects
As-built documentation is crucial to the development of brownfield projects.…