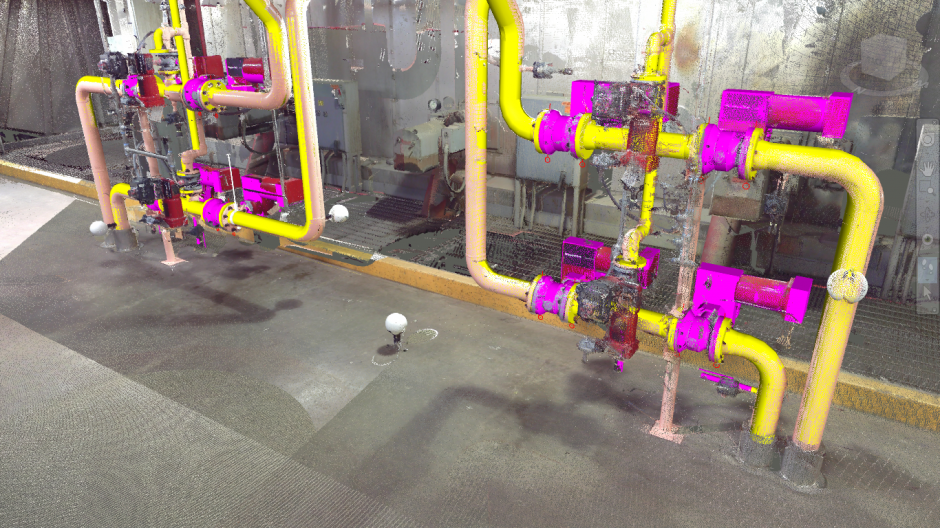 Advantages of 3D Laser Scanning For Brownfield Projects
As-built documentation is crucial to the development of brownfield projects. But the challenge for existing/brownfield assets is the ability to turn decades' worth of operational information and experience from various sources and systems into 'applicable information'. As-built documents are often incomplete, or outdated and hence unreliable. Currency and accuracy of data is critical in the design environment.
The success of the design depends on the original source data. Revamps require time-intensive remodeling, leading to several design iterations and back and forth.
The gathering and verification of as-built documents can take up to several months and require several site visits – adding up to the cost of the project and causing unnecessary delays. Often there are changes and rework on the facilities that are undocumented adding to the complexity and chaos.
Thankfully, 3D laser scanning technology can reduce your production schedule, minimize risks and improve operational efficiency. 3D laser survey is a non-contact technology that captures the three-dimensional measurements of physical objects with laser light.
Laser survey data produces "point cloud" that comprise millions of points and is the most accurate information and assessment tool for engineers and designers. Laser 3D Scanning is therefore invaluable for CAPEX(Capital Expenditure) and OPEX(Operational Expenditure) projects at engineering, procurement and construction (EPC) firms and owner operators (O/Os).
Benefits of 3D Scanning for such projects
It provides perfect measurement and inspection of contoured surfaces and complex geometries that require vast amounts of data and coordinates for their accurate description.
3D laser survey can inspect difficult/elevated positions. No need to construct massive scaffolding or other means to scale height. Measurement is carried out digitally once 3D Point Clouds are captured.
3D laser scans save numerous site visits for verification. On an average one offshore platform can be completely scanned in 5 days. However for more complex and larger plants, it could vary. Similarly, on-shore facilities also benefit from point cloud visualization.
The accuracy of 3D laser scans is very high owing to the 3D Point Clouds data.
Once the 3D laser survey has been completed and the 3D point cloud information has been captured, a 3D CAD model is generated. The P&ID of existing facilities are now required to cross check and validate the information in 3D points cloud. The expense of 3D laser scanning is proportional to the complexity and scale of the project.
And yet, compared to traditional measurement processes,3D Laser Scanning Of Brownfield Projects gives the most value for money. It can significantly reduce the design iterations and re-routing. Furthermore, accuracy of data and engineering process means that the material procurement contingency can be avoided.
3D laser scan data is primarily used for:
3D Modeling and As-built data.
Monitoring data.
Checking data.
Verification of data
3D Modeling & As-built
3D asset visualization provides designers with Laser scan data provides the designers with up to date and detailed information such as pipe size, length, structural cross section information from the data. Brownfield laser data can be used for clash checks with modeled objects and referenced objects. It can also be used for referencing the views on orthographic drawings. The resultant as-built data and digital information saves hundreds of hours' worth of modeling time.
Monitoring data
Laser scanning can be used effectively to monitor facility – equipment, vessels, structures, hulls tanks etc. to analyze any deformations or other risks. This is very helpful for maintenance and risk management.
Checking data
Modular skid packages need to be checked and verified before the assets are physically moved to the facility. Before the modules are transported, a quick scan can confirm if the modules will fit correctly and flag up potential problems – that can prevent unnecessary to and fro.
Verification
Laser scanned components and equipment can be used for verification and validation of design. This is helpful for quality control allowing designers to address any deviations from original drafts.
At Rishabh Engineering we offer value engineering services and solutions including 3D modeling and engineering design of operational assets. In recent projects we have also used point cloud data for 3D Modeling and provided design solutions for engineering companies.
Looking for the engineering services company providing improvised design solutions with 3D Laser Scanning?
We have the expertise in point cloud data to 3D Modeling technique to improve plant productivity and flexibility.
Call us now: 1-877-RISHABH (1-877-747-4224)
Or
Plant Reverse Engineering Services
What is Reverse Engineering? An engineering process implemented for enhancing…
Best 3D Plant Design Softwares for Multi-Disciplinary Engineering
In the modern context, the modeling and analysis of new-age…