Houston, Texas, Oct 07, 2017: Rishabh Engineering Services (RES), a US-based multi-discipline engineering services company pulled a hat-trick by bagging three awards at HxGN Local CAUx North America 2017 on Tuesday, September 26, 2017 in Houston. RES emerged a winner for a CAESAR II project and runner-up for CADWorx and CAESAR II projects respectively.
HxGN Local CAUx is a technical, engineering-based conference organized each year to focus on the best of engineering trends, attracting experts from across the world. The event provides a mix of hands-on, user-oriented sessions, focused on improving critical parts of your business needs. HxGN Local CAUx also recognizes excellence in engineering projects by awarding some of the most innovative plant engineering solutions and intelligent designs from the world over.
Rishabh Engineering Services has won the following awards:
Drivers of Success Awards – CAESAR II – Winner – Rishabh Engineering for Project Excellence
Drivers of Success Awards – CADWorx – Runner Up – Rishabh Engineering for Project Excellence
Drivers of Success Awards – CAESAR II – Runner Up – Rishabh Engineering for Project Excellence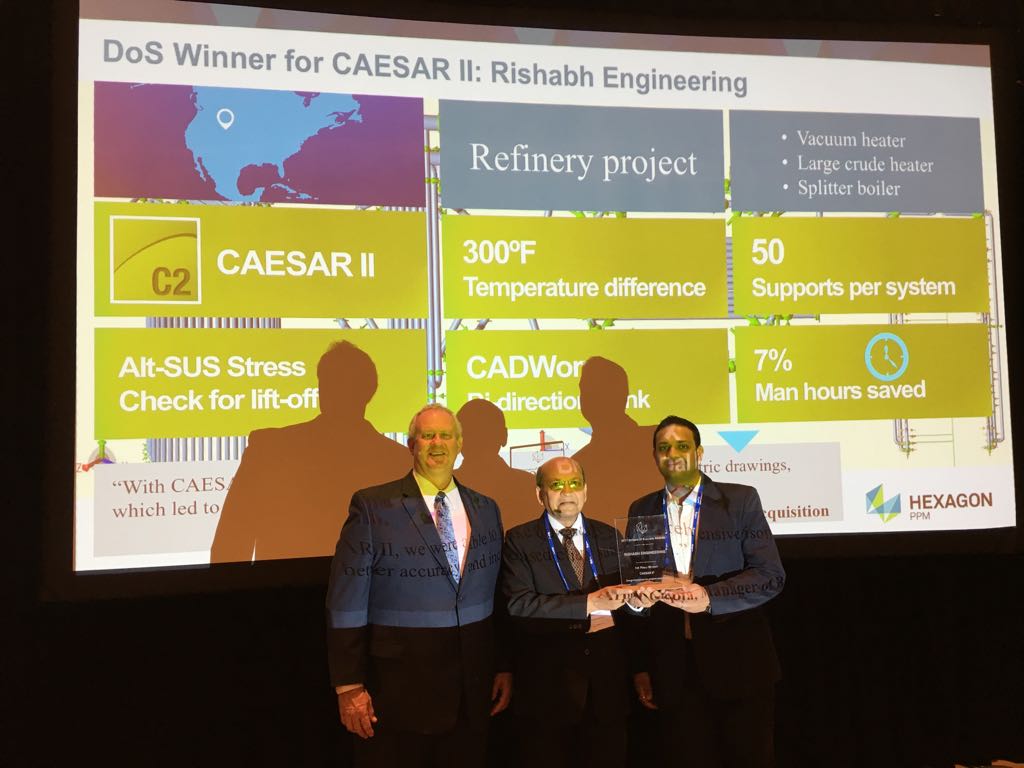 Each year Hexagon PPM recognizes an engineering company that has shown outstanding application of engineering design using Intergraph Plant Design software. The awards uphold the accuracy in engineering deliverables along with high quality and innovation. Not surprisingly, this award is considered as one of the most prestigious awards in engineering.
It is worth mentioning that Rishabh has won The Drivers of Success Award second year in a row. This is an important milestone for Rishabh Engineering – a nod to the company's commitment towards quality and on-time delivery for its global client-base.
"By leveraging CADWorx & Analysis Solutions suite, we have developed innovative engineering solutions helping our customers achieve cost efficiency and executed engineering projects with improved productivity and accuracy." said Mr. Raju Shah, CEO, Rishabh Engineering. "We have also been able to address the real-world engineering challenges by implementing diverse range of engineering design, stress and flexibility analysis using CADWorx & Analysis Solutions."
Rishabh Engineering also takes this opportunity to thank its clients for their continued support and trust in our abilities, and Hexagon PPM for their recognition.
Rishabh Engineering has mastered the Hexagon PPM's CADWorx & Analysis Solutions to build innovative engineering models & deliverables for upstream and downstream Oil &, Gas and Energy sector projects. We've fulfilled our goal to enhance productivity and create accurate and efficient designs for our EPC customers using Intergraph Solutions.
About CADWorx & Analysis Solutions:
CADWorx & Analysis Solutions is part of Hexagon PPM. It develops and supports the following products: CADWorx®, for plant design; CAESAR II®, for pipe stress analysis; PV Elite®, for pressure vessel analysis; and GT STRUDL®, for structural analysis.
Hexagon PPM is the world's leading provider of enterprise engineering software enabling smarter design and operation of plants, ships, and offshore facilities. Hexagon PPM is part of Hexagon (Nasdaq Stockholm: HEXA B; http://www.hexagon.com), a leading global provider of information technology solutions that drive productivity and quality across geospatial and industrial landscapes.
About Rishabh Engineering:
Rishabh Engineering Services (www.rishabheng.com), a division of Rishabh Software, is a multi-discipline engineering services company established in 2006. We offer high-quality engineering support solutions to EPC leaders operating in Oil & Gas, Petrochemicals, Power, Fertilizers and Water/ Wastewater industries in the global market.
As a part of our services portfolio, Rishabh Engineering Services offers multi-disciplinary engineering support services including engineering and stress analysis, design and detailing, industrial 3D modeling, As-built Documentation, design validity checks, model and drawing conversion.
New Logo. Same Values. Soaring Ambition.
We're excited to announce the re-design of our corporate logo.…