Project Information
Piping Stress Analysis of FRP Piping System using CAESAR II
Client
A manufacturer of wide range of corrosion resistant fiberglass reinforced plastic (FRP) equipment from piping systems to duct, stacks, hoods, covers, cells, and other miscellaneous custom equipment. The client provides services ranging from component design to stress analysis, as well as inspection of new and existing installations.
To get detailed information
Download PDF (1.08 MB)

Engineering Requirement
To conduct Piping Stress Analysis of the FRP piping for one of their ongoing project, and create the CAESAR model for the stress analysis.

Delivered
CAESAR II Model
Piping Stress marked-up Isometrics
Piping Stress analysis report
Highlights of overstressed conditions in existing piping
CAESAR Input List
Stress Summary Report
Restraint Load Summary Report
Displacement Report Flange Leakage Report
Know more about this project?
To know more about this project's entire scope and the services the team provided to this client, Contact us or Call 1-877-747-4224
Connect with us for all your engineering design needs
US Toll-Free Phone
+1-877-747-4224
India Phone
+91 (265) 2680159
Drop Us An Email
sales@rishabheng.com
Our Offices
USA, UK & India (Head office)
Ready to work with us? Tell us more
Amid the uncertainty inundated by COVID-19 outbreak, our hearts go out to everyone impacted by the virus either directly or indirectly. At Rishabh Engineering, our priority is the health and…
Las Vegas, Nevada, June 13, 2019: Rishabh Engineering Services (RES) wins the "Drivers of Success Award" for the year 2019 at HXGN LIVE event this week. As the fourth time…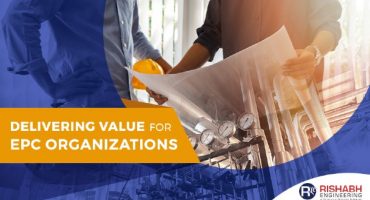 Today's increasing competition and volatile geopolitical situations are making it imperative for the Oil & Gas companies to maintain their project costs while delivering optimum quality within the stipulated time…