Project Information
3D Modeling of Effluent Treatment Plant (ETP) using PDS
Client
A leader in water technology market and holds global market share of 14%. They offer services in the areas of municipal and industrial water & waste-water treatment. They have consolidated its' specialist reputation through a number of innovative and path-breaking projects in the fields of water treatment and waste-water recycling.
To get detailed information
Download PDF (457.85 KB)

Engineering Requirement
PDS Administration including spec. writing (Approx-15 Spec) and customization of special items
Modeling –

Roads, pavements and storm water drains, process drains and interface junctions, culverts, pits
Equipment modeling
Equipment foundations / Structure / Structural platforms / Ladders / Railing / Manholes / Envelopes
Structural modeling
Physical support modeling as per support standards
Cable Trays (Electrical & Instrumentation)
Instruments, Junction boxes, Air manifolds, SOV boxes, Local Control Panels with supports
Motors and PBS with canopy
Electrical JBs and DBs, Column or wall mounter electrical supplies, Earthing / Lighting pit location
Electrical structural supports

Delivered
Isometric drawings
Consolidated MTO (in Excel) – Piping and Structural
Piping GA drawings
Final 3D model
Updated As-Built Drawings
Know more about this project?
To know more about this project's entire scope and the services the team provided to this client, Contact us or Call 1-877-747-4224
Connect with us for all your engineering design needs
US Toll-Free Phone
+1-877-747-4224
India Phone
+91 (265) 2680159
Drop Us An Email
sales@rishabheng.com
Our Offices
USA, UK & India (Head office)
Ready to work with us? Tell us more
Amid the uncertainty inundated by COVID-19 outbreak, our hearts go out to everyone impacted by the virus either directly or indirectly. At Rishabh Engineering, our priority is the health and…
Las Vegas, Nevada, June 13, 2019: Rishabh Engineering Services (RES) wins the "Drivers of Success Award" for the year 2019 at HXGN LIVE event this week. As the fourth time…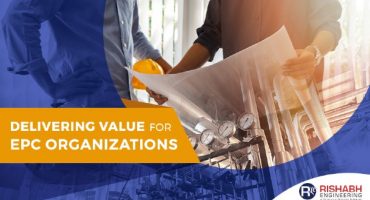 Today's increasing competition and volatile geopolitical situations are making it imperative for the Oil & Gas companies to maintain their project costs while delivering optimum quality within the stipulated time…