Project Information
Finite Element Analysis & Piping Stress Analysis for process nozzles using Nozzle Pro and CAESAR II
Client
A privately held multi-discipline engineering, procurement and construction management company that operate in industries like petrochemical, refining, paper, power, industrial power/cogeneration, gas transmission, manufacturing and fabrication.

Engineering Requirement
Check and evaluate all the Process Nozzles connected to critical equipment's like Knock Out Drum, Absorber Overhead Drum, Absorber Separator & Stripper Tower using Finite Element Analysis method on Nozzle Pro
Piping Stress Analysis to analyze the piping loads, and then used the resulting loads in the Nozzle Pro to carry out FEA

Delivered
Piping Stress Analysis & FEA by using ASME B31.3, ASME Section VIII Div. 2 Codes
C2 File
Nozzle Pro Report
CAESAR Report
Marked up Isometric Drawings
Connect with us for all your engineering design needs
US Toll-Free Phone
+1-877-747-4224
India Phone
+91 (265) 2680159
Drop Us An Email
sales@rishabheng.com
Our Offices
USA, UK & India (Head office)
Ready to work with us? Tell us more
Cryogenic piping systems are used in a range of industrial applications including LNG transport, storage and regasification, Hydrogen storage and transport and the food and beverage sector. They must be designed to withstand operational stresses and displacements while also regulating thermal forces.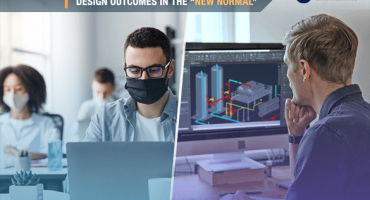 The COVID-19 outbreak had completely changed the way, how we live, do business and the way our economy functions as a whole. We've witnessed projects having difficulty in ramping up—and then down—to meet the demands of mandates and needed responses.
The oil & gas industry has always been the center of the global economy. Its demand and supply matrix always impacts the prices of the commodity across the globe.