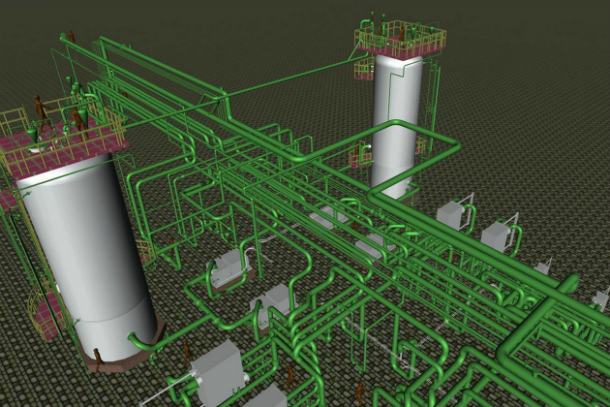 Detailed Engineering of Piping Systems
Detailed engineering involves design, detail, engineering and layout of piping and instrumentation. It also involves process and utility equipment management.
Detailed engineering is an integral part of the engineering design process – a multi-step process which includes conceptualization, research, feasibility analogy, establishing design requirements, preliminary design plans, detailed designing, production planning and tool design and finally moving towards actual production.
For an engineer, detail engineering plays an important deciding enabler as it provides the background plan necessary for designing and engineering piping assignments. Detailed engineering is applicable across many industrial and process-engineering areas such as utility, chemical, power, pulp and paper.
In a nutshell, Detailed Engineering covers
Procurement of equipment, main and bulk
Thermal rating of heat exchangers
Development of Piping and Instrument diagrams to be released for construction stage
Development of detailed piping drawings, including isometrics and stress analysis
Development of detailed drawings related to electrical facilities, instrumentation and civil works
Cost and schedule control
Start-up procedures
Piping Detailed Engineering Application and Process
The word 'Piping' includes the use of components as pipe, valves and fittings. A piping designer must be familiar with the equipment, instrumentation and related disciplines in addition to the many facets of piping design. Engineers, designers and construction personnel get together to develop and design piping and instrumentation diagrams also known as P&ID (Process & Instrumentation Diagrams). However, the process doesn't stop there, they also make equipment plot plans, define the piping arrangements and make fabrication drawings.
Piping Detailed Engineering: Then and Now
Before the advent of 3D and CAD, piping detailed engineering was carried in an ad-hoc manner based on random considerations without any formulae or code reinforcement. However, with the evolution in engineering training and the technology, piping detail engineering has evolved the way piping structures are designed and implemented today. Piping detail engineering is a very complex and time-consuming task and with the technology evolution, today such tasks become simple and more accurate.
Detail piping engineering: What does it involve?
Detail piping engineering involves an engineering report for the use of various types of pipes and pumps with pressure drop calculations. It also includes pipes and pumps specifications, equipment selection and size, instrumentation and process control, and other piping components such as valves, fittings, piping hangers and supports.
Detailed engineering: Who it involves?
Engineers, designers, draftsman and CAD operators in the piping engineering and design industry often have knowledge about detailed engineering. Practical engineers have superficial knowledge of detail engineering too. However, you can get perfect detailed engineering plan information with the help of an expert. Detail engineering expert helps piping fabricators and contractors to calculate the cost and get a better understanding of design, layout and construction of piping systems.
Detail piping engineering: How does it help you?
Detail piping engineering throws light on how your piping systems should work and what materials must be used to make the piping structure for the engineering project. It also helps to select the type of material to be used for certain pipes and piping components. Detailed engineering helps in drafting fabrication and construction specifications. Piping engineering also helps the engineers to execute a thermal analysis, vibrating analysis and stress analysis for sound piping layout and implementation.
Outsourcing piping detailed engineering enables enterprises hire highly experienced piping detail engineers at a fraction of the cost. Are you seeking an engineering services company that can help you with your Detail piping Engineering needs on your next project? Come talk to us on 1-877-RISHABH (1-877-747-4224) or fill in this contact form to have us call you.